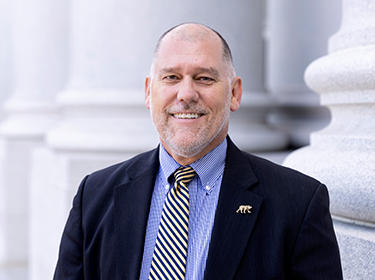 Stephen C. Sutton, EdD
Stephen C. Sutton, EdD, vice chancellor of the Student Affairs Division, has spent his career advocating for students and operationalizing policies, services, and programs to support students. He has held several different administrative positions at UC Berkeley, including serving as the associate vice chancellor for Residential & Student Service Programs (RSSP).
Student Life Vision
Dr. Sutton's vision for student life is largely informed by his own college experience as a first-generation college student at a large, public institution and from his experience as a resident assistant. As a result of these and other impactful experiences, he sees the objective of Student Affairs as "to make a big campus feel smaller" by creating supportive and engaging communities for all students. Helping each student feel that they matter and belong is crucial to this vision and drives the focus of the division's programs, services, and philosophy.
During Dr. Sutton's time as vice chancellor, Student Affairs has prioritized diversity, equity, inclusion, belonging, and justice (DEIBJ) efforts, including the creation of a new Senior Advisor and an Advisory Board, and increased diversification of Berkeley's admitted and yielded classes.
New student housing remains critical to Berkeley's growth and success. Dr. Sutton has helped to facilitate two housing projects, Blackwell Hall (775 beds – completed in 2018) and Intersection Apartments (105 units – completed in 2021), with five more housing projects under way, including Anchor House (772 beds – under construction), People's Park Housing (1,113 beds – construction begins 2022), Albany Village Graduate Student Apartments (760 beds – construction begins 2022), Upper Hearst (150 apartments – planning under way), and 2200 Bancroft (750 to 800 beds – early conceptual planning).
Additionally, working in partnership with University Health Services, Dr. Sutton has prioritized access to student mental health services, which experienced 24,000 mental health appointments in academic year 2021–22. During that period, Student Affairs reduced average wait times to see a mental health counselor from 15 days to close to 3 days.
Career
Dr. Sutton started his Student Affairs career at Berkeley in 1987, when he served as a residential life coordinator, working directly with students, residential advisors, and hall coordinators. He then worked at universities in Florida and Texas in various capacities, including student activities and student union management, and served as a dean of students. As the vice president for Student Affairs and Enrollment Management at the University of St. Thomas, he implemented a new and integrated model for both divisions grounded in student development best practices, with the primary objective of growing the current enrollment. This included creating a National Association of Intercollegiate Athletics (NAIA) program and an innovative First-Year Experience Program.
Dr. Sutton returned to RSSP at UC Berkeley in 2009. During his tenure as associate vice chancellor for that department, Dr. Sutton contributed his expertise and leadership to critical campus and divisional issues such as organizational development, crisis intervention, change management, sexual assault/sexual violence education, student development theory, student health and wellness, and student advocacy. As a seasoned leader, he has led teams of volunteers in developing goals, implementing strategic and operational initiatives, and setting metrics of success that resulted in process improvements.
Dr. Sutton has also been active in multiple professional associations, holding numerous leadership positions during his career. His commitment to supporting professional development for all staff is a reflection of the investments that others made in his growth and development, as well as his own personal commitment to his professional development activities. He enjoys coaching and engaging with team members about their professional development plans.
Dr. Sutton is a charter faculty member of the Student Affairs and Higher Education Administration certificate program offered through UC Berkeley Extension. He serves on the advisory board for the program and teaches courses on student development theory and organizational development.