UC Berkeley Student Affairs Impact Report, 2021–22
On behalf of the Division of Student Affairs, I am pleased to present our 2022 Impact Report. This report is designed to share important data points that describe the work in which we have been engaged as the largest division on campus. More importantly, my hope is that it will paint a lively picture of how we serve our various constituency groups by embodying our mission that "builds, shapes, and enhances student experiences at Berkeley and propels students to achieve their visions of success."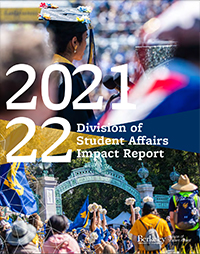 We have so many successes and achievements to celebrate this year. A few highlights include:
We received 147,599 admissions applications for freshmen and transfer students, our largest number ever.
Our Student Engagement and Diversity fundraising team raised $393.4M, a 99% increase in total dollars raised from FY21 and they are still going strong.
The Public Service Center and Student Environmental Resource Center (SERC)  collaborated with Berkeley Social Welfare to establish the inaugural class of College Corps Fellows as part of the #CaliforniansForAll College Corps.
Various units within our division collaborated with each other and with other campus entities to help our campus, and more importantly our students, continue to recover from the impacts of the global pandemic.
We launched a 12-session Enhancing Diversity Equity Inclusion Belonging and Justice (DEIBJ) Fluency Series specifically designed for Student Affairs, and have 61 Senior Leaders (executives and their direct reports with management and strategic oversight) participating to date.
While we continue to manage day-to-day needs and challenges, we are also planning for the future. Our strategic plan provides the structure and roadmap for a renewed commitment to achieving our collective vision and mission. This effort will now enter the second year of implementation, and I am eager to see the strides we make as we work together to improve the student and divisional staff experience. As we continue to emerge from the impacts of the pandemic, we need the types of rejuvenation and creative thought that this planning process provides. The five priority areas include:
Redefining the Student Experience
Culture of Equity, Inclusion, and Belonging
Financial Stability
Health Justice and Holistic Well-Being
Organizational Behavior and Development
We have a committed, dynamic, and creative team in the Division of Student Affairs. I am grateful for their tireless efforts in providing every student a remarkable co-curricular experience.  The report is a testimony to their collective work.
Stephen C. Sutton, Ed.D. (he/him/his)
Vice Chancellor for Student Affairs
Accessible Version
If you would like a fully accessible version of this report, please contact: sacommunications@berkeley.edu
Archives
Past versions of the Impact Report are available on our archives page.